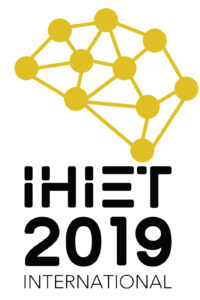 IHIET Conference aims to provide a global forum for presenting and discussing novel human interaction approaches, and emerging technologies systems, tools, methodologies and solutions in addition to trends and applications in all areas of human-machine and systems interaction applications.   
IHIET 2019 conference is attended by more than 400 researcher and scientist from academia and Industry!     
Proposal Abstract Submission Deadline (500 words): 20 April 2019 [11:00pm PST]                
Submission System: (New Users? Sign up): http://ihiet.org/submission.html                                                        
Selected areas and topics of interest include but are not limited to:
Human-centered Design

Computation and Intelligent Design

Augmented, Virtual and Mixed Reality Simulation

Wearable Technologies, Social and Affective Computing

Human–computer Interaction

Applications in Medicine, Biomechanics, Sports and Healthcare

Human-Technology and Future of Work

Emerging Technologies and Business Applications
The abstract submission deadline is approaching quickly! 
Peer-review accepted short full papers will be published in the IHIET 2019 Springer Book and Conference Proceedings. The proceedings are submitted to ISI, EI-Compendex, DBLP, SCOPUS, Google Scholar and Springerlink.